India's Swami Agnivesh – The Remarkable Journey of a Spiritual Activist and true Visioneer
 (September 21, 1939 to September 11, 2020)
 His great work continues 
Vision: 
The vision Swami Agnivesh upheld and embodied all his life was simple and unswerving: 
'The Universe is a Single Family.' 
This axiom, expressed in the ancient Vedic scriptures of India as 'Vasudevakutumbakam', he discovered, is not unique to Hindus or to India, but is echoed in all major spiritual traditions and cultures of the world, like 'Mitakuye Oyasin' for the First Nations of North America and 'Ubuntu' for the Southern Africans. For him this was not a utopian vision but an inexorable reality that had to be experienced, embodied and manifested by humanity on earth. 
With a vision as all-encompassing as this, it is no wonder that in his lifetime Swami Agnivesh addressed every major societal issue requiring urgent transformation, for 
he saw the interconnectedness and interdependence between all things. 
From Law and Management Professor to Champion of the Marginalized: 
It was at age 28 that Swami Agnivesh's life took a dramatic turn. He took a radical decision to abandon a burgeoning career as a professor of law and management consultant in the prestigious St Stephen's College in Calcutta for a life of activism in favour of the most marginalized groups of society. 
Born into a Brahmin – upper caste – South Indian family, he shed his name, caste, religion, family, and all his belongings and property to adopt the garb of a 'Swami' or renunciate, and began his life's crusade for social justice based on compassion. Rejecting the divisive caste politics of orthodox Hinduism enforced by his own Brahmin caste, he adopted a radically reformist spiritual movement within Hinduism which renounced caste and all social and gender divisions.  
The term 'Swami' denotes, as with Christian or Buddhist monks and renunciates, one who gives up individual identity, private property and all belongings to serve humanity and pursue spiritual truth and self-mastery. But for Swami Agnivesh, it was not the reclusive religious life of a monk in a monastery he sought but, like St. Francis of Assisi, one of living amongst the poorest and most oppressed to understand their suffering and oppression and work for their liberation. 
Spiritual Activism: 
Swami Agnivesh was a living exponent of what he called spiritual activism or applied spirituality.  For him, spirituality is unrelated to any particular religion – 
Indeed spirituality transcends all religions and unites all living beings. 
Spirituality for Swami Agnivesh was simply the conjunction of justice, truth and compassionate action. Spirituality, he believed, is not a punctual activity pursued through an hour of prayer, ritual or meditation, but rather represents values to be lived and applied in action in every moment of life. Spiritual Activism denoted not just his own practice but what he believed was essential for our times: 
To seek to transform the ills in society based on universal spiritual values
of truth, justice and compassion for all life. 
He authored many books on this topic including one in the last month of his life, co-authored with his life-long associate in his interfaith campaigns, Rev. Valson Thampu, a Christian priest and renowned educator.
He Served Just Causes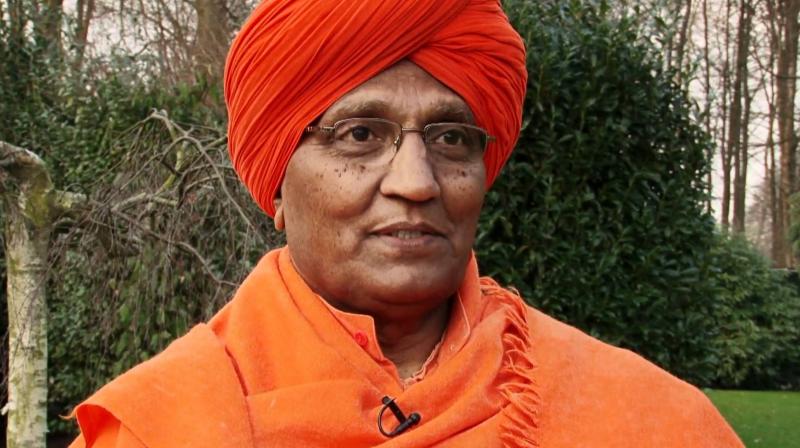 Ending Slavery for all Time: 
The first cause Swami Agnivesh took up in the 1970s and remained faithful to until his demise was that of modern day slavery, which in India is euphemistically called bonded labour. For over four decades Swami Agnivesh  campaigned for the rights and dignity of 'bonded labour' or inter-generational slaves, and child labour.    In 1981
he established the Movement for the Freedom of Bonded Labour
(Bandhua Mukti Morcha, http://bondedlabour.org/about-us/), 

An organization which has to date freed and rehabilitated 168,000 'bonded labourers' or slaves from forced labour, of which 78,000 are children. Although he succeeded in introducing path-breaking new legislation to guarantee their liberation, these laws are still not enforced, and bonded and child labour are still rife. Until his death, many victims would knock directly on Swami Agnivesh's door  and he would intervene personally to ensure that they were safely liberated with police protection and compensated as per the law. At his funeral, innumerable women and men from all parts of the country who had been freed and rehabilitated by Swamiji flocked to pay their last respects and share their stories of the compassionate and fearless saviour to whom, they insist, they, their parents and children, owe their entire lives.  
Swami Agnivesh took the case of bonded labour to the United Nations, and for his advocacy he was appointed the Chairperson of the 
UN Voluntary Trust Fund to Eliminate Modern Day Slavery, 
a task he fulfilled with zeal at the international level for many years. 
Women's Rights: 
Championing the dignity, rights and freedom of women was the cause Swami Agnivesh cherished most. As a child, he witnessed first-hand the societal ostracism, humiliation and servitude his own mother was subjected to when she was widowed at his father's death. 
Swami Agnivesh saw all women as his mothers and sisters, and yearned to see women in equal positions of leadership in all sectors and institutions of society.
He advocated relentlessly for the full gamut of women's rights, taking on the most controversial societal issues at great risk. In turns, he addressed the plight of child widows, the shameful practice of sati (the burning of widows on the husband's funeral pyres), dowry deaths where greedy parents-in-laws murder their young brides for more money. 
He took on the crime of female foeticide, which, by 2005, had reduced India's population by about 60 million females. He strove to not simply enforce or change the law on these gender issues, but to change engrained public mindsets, through interfaith campaigns and marches through the country, in partnership with male and female leaders of all religions and faiths.
Peace: 
One could say Swami Agnivesh's championship of peace and justice was destined from birth, as he was born the year the Second World War began, in 1939, but, fittingly, on 21 September –the United Nations' designated International Day of Peace. 
Swami Agnivesh advocated not for the minimalist 'negativepeace' of a simple absence of war, but for a positive, holistic, integral peace that encompassed all dimensions of life, and that was grounded in justice and dignity for all without exception. 
For him, peace was also inseparable from the environment and ecological justice. 
He drew on Gandhian wisdom to advocate simplicity and sustainability, and to deplore the economics of greed that accompany globalization and cause inequality and social conflict. His natural proclivity was to champion the most violated, oppressed, and marginalised victims of violence - the Dalits or 'untouchables', the indigenous or 'Adivasis', bonded labourers and women and girls - which he did with relentless passion all his life. Yet, he was incapable of bearing 'hatred' to his so-called enemies or opponents. He led numerous peace and interfaith initiatives to hear victims and promote harmony in war-torn places.  He partook in peace marches, mediated conflict which was endangering the lifestyles and survival of ancient indigenous tribes.   
He became a passionate advocate for the aboriginal Indians and he undertook a special mission to meet the UN High Commissioner for Human Rights in 2015 personally to plead for intervention to protect Indian indigenous populations.
Interfaith Dialogue:
Swami Agnivesh spearheaded the interfaith and inter-religious movement nationally and globally. He steered it towards genuine responsible engagement in overturning many of the social scourges that religions inadvertently tolerate or deliberately support. At international inter-faith gatherings of the highest level, flanked by the likes of the Pope and the Archbishop of Canterbury, Swami Agnivesh repeatedly disparaged his fellow-religious leaders for their continued exclusion of women from positions of religious leadership and from the search for faith-based solutions to global crises. 
The Sarva Dharma Sansad or All Faiths Parliament he established in India in 2007 is the first interfaith movement that includes both women and men leaders. Its purpose is to overcome the principal scourges of Indian society.    Swami Agnivesh's belief that attitudes and mindsets needed to be changed through open dialogue and public debate led him to host a weekly television debate on the TV channel of the National Parliament, Lok Sabha TV called 'Vichar Manthan' or Thought Forum, where eminent experts addressed social and political issues with the active participation of a live audience of youth drawn from diverse cultural and religious backgrounds.
 A Largehearted Friend to One and All: 
Regardless of his considerable national and global stature, to all his relationships with ordinary and distinguished people around the world, Swami Agnivesh brought his inimitable spirit of warmth, compassion, humour, his love for humanity and nature, and his contagious passion for justice. He touched every individual he met with his concern and compassion. Like Mahatma Gandhi, he strove untiringly to learn afresh, to master his ego, and to embody the change he sought to effect in human society. 
He believed that all people can engage in a life of spiritual activism in their own unique way, in accordance with the demands of their own lives centred on compassionate action. 
Doing so would lay the foundation for a universal family of spiritual activists – perhaps Swamijee's greatest aspiration and call to all of us.
Awards and Distinctions: 
Throughout his life, Swami Agnivesh was honoured with multiple awards, among them: 
The Right Livelihood Award or 'Alternative Nobel Prize', 
The Anti Slavery International Award, 
The Freedom and Human Rights Award, 
The Rajiv Gandhi National Sadbhavana (Compassion) Award. 
On his deathbed, literally in his final hours, Swami Agnivesh, received from The Visioneers International Network the prestigious award of 
HERO OF HUMANITY 
"There are a very few truly extraordinary people who are born to devote their lives to the service of humanity. Across the world, they face the challenge and opportunities of their time to uplift everyone whose lives they touch. These are the Heroes and Heroines of Humanity whose contributions to advancing the human project on Earth we wish to acknowledge, celebrate, and preserve as inspiration and guidance for the best that we can be."
This award exemplifies the remarkable life of service to humanity of Swami Agnivesh.     
Swami Agnivesh – Thank You!
Interview with Swami Agnivesh
Shortly before his health deteriorated, Swami Agnivesh gave one last interview.   It is our good fortune that Swami jee's priceless wisdom was shared so beautifully and powerfully by him in this interview.      It also shows how beautifully he interacted with everyone he encountered, as you can tell by his interaction with the students conducting the interview.  You also get a glimpse of how his own humble home was a hub for national and global spiritual activism.  
https://www.youtube.com/watch?v=ldcNXbLuzuc&feature=youtu.be
For another in depth look at Swami Agnivesh's inspiring life, here is an Obituary written by The Economist heralding Swami as  "the liberator of bonded labourers"
https://www.economist.com/obituary/2020/10/10/swami-agnivesh-died-on-september-11th